YMTL2P — Mechatrolink II Interface Adapter for LinuxCNC
YMTL2P is a PCI interface adapter compatible with Mechatrolink II network servo amplifiers. It supports up to 8 connected drives in position or velocity control mode. The card also features general-purpose I/O headers for connecting to limit switches and relays. The software includes LinuxCNC 2.8 driver.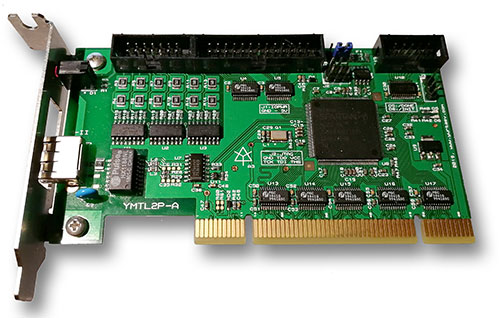 Specifications
PCI 2.3 32bit, 33MHz, 5V/3.3V, low profile card 120mm x 80mm
Mechatrolink II — 10 Mbit/s, 32 bytes packets, controls up to 8 servo amplifiers
1ms cycle, position or velocity control
12 optoisolated digital inputs, 24VDC
8 open drain outputs, overcurrent protected, up to 36VDC/500mA each
Expansion connector — 17 bidirectional 5V tolerant I/O lines to the FPGA
LinuxCNC driver
Compatible drives
Yaskawa SGD7S-xxxx10A *
Yaskawa SGDV-xxx11A/xxx15A *
Yaskawa SGDS-xxx12A/xxx15A
Yaskawa SGDH-xxxx+JUSP-NS115 *

* not tested yet
Board layout
The card layout showing connectors and indication LEDs: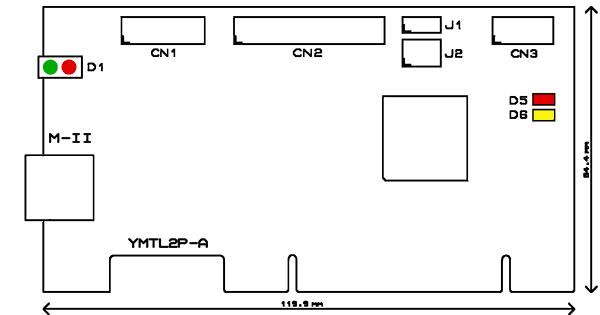 LEDs
D1 — servo amplifier status

green, blinking — waiting for servo amplifiers to answer
green — servo amplifier(s) connected and initialized
red — M-II receive CRC error

D5 — FPGA boot error

red, continuous — FPGA boot error

D6 — firmware status

amber, continuous — FPGA boot error
amber, long off/short on — firmware is standing by
amber, long on/short off — firmware is in sync with LinuxCNC
Connectors
CN1 — digital inputs
CN2 — expansion connector
CN3 — digital outputs
M-II — Mehatrolink-II USB-A type connector
J2 — JTAG connector
Jumpers
---
Jumpers
J1 — CN2 power
1-2
CN2 pins 18, 20, 22, 24, 26 connect to GND
2-3
--//-- to +5V*
* +5V is sourced from PCI connector via 500mA self-resettable fuse
J2 — JTAG
1
TCK
2
GND
3
TDI
4
TDO
5
TMS
6
VCC 3.3V
---
Digital inputs
CN1 contains 12 optoisolated digital inputs. External 24VDC field power supply is required for operation. Example connection of open-collector outputs or mechanical switches is shown on schematics. Inputs can be either common anode or cathode. They are divided into 2 groups: 0-7 and 8-11
CN1
1
IN0
2
IN1
3
IN2
4
IN3
5
IN4
6
IN5
7
IN6
8
IN7
9
IN8
10
IN9
11
IN10
12
IN11
13
COM0-7
14
COM8-11
Example connections: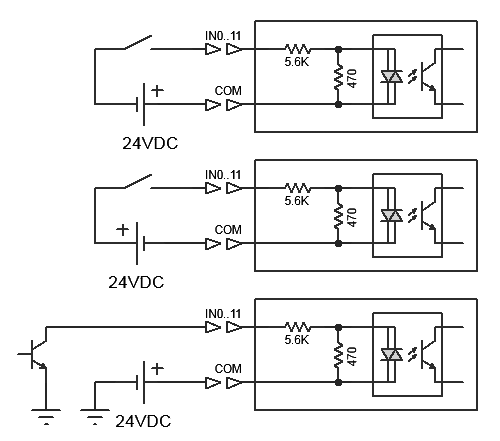 ---
Digital outputs
CN3 has 8 open-drain outputs from NCV7240 IC. Each output is rated to 600mA/36V max.
CN3
1
OUT0
2
OUT1
3
OUT2
4
OUT3
5
OUT4
6
OUT5
7
OUT6
8
OUT7
9
GND
10
GND
Example connections: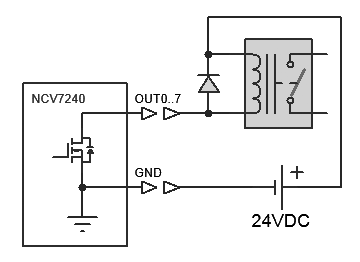 ---
Expansion
CN2 connector is intended for daughter boards.
All IO0..IO16 lines are 3.3V LVTTL and are 5V tolerant.
Pins 18, 20, 22, 24, 26 optionally provide 5V power to external devices. The power is taken from the PCI bus and fused to 500mA.
CN2
1
IO0
2
IO1
3
IO2
4
IO3
5
IO4
6
IO5
7
IO6
8
IO7
9
IO8
10
GND
11
IO9
12
GND
13
IO10
14
GND
15
IO11
16
GND
17
IO12
18
GND or +5V
19
IO13
20
GND or +5V
21
IO14
22
GND or +5V
23
IO15
24
GND or +5V
25
IO16
26
GND or +5V*
* depends on J1 position, up to 500mA (fused)
Pin assignment for firmware v2.3.x with YEX1-A:
CN2
1
DAC SCK out
2
DAC CS_N out
3
ENC0 A in
4
DAC SDI out
5
ENC0 B in
6
ENC0 Z in
7
485 RX in (YIO)
8
485 TE out (YIO)
9
485 TX out (YIO)
10
GND
11
422 RX in
12
GND
13
422 TX out
14
GND
15
-
16
GND
17
-
18
GND or +5V
19
ENC1 A in
20
GND or +5V
21
ENC1 B in
22
GND or +5V
23
ENC1 Z in
24
GND or +5V
25
-
26
GND or +5V*
* depends on J1 position, up to 500mA (fused)